ABOUT ONNE VAN DER WAL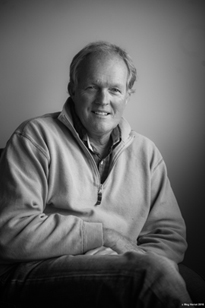 Award winning nautical photographer and Canon Explorer of Light, Onne van der Wal, will take you on a visual journey that most can only dream about accessing: prepare to get wet and salty, at least viscerally. For over 25 years van der Wal has surrounded himself with water and the nautical world and his imagery speaks volumes to his expertise and vast experience in this challenging environment.
Once a professional sailor, van der Wal circumnavigated the world as part of an all male team trying to be the fastest boat in the 1981-82 edition of the "Whitbread Around the World Race." His sparse racing gear allowance didn't leave much room for his novice camera kit – but he talked his way into bringing along the Olympus camera and lenses that the camera company had given to him to document his teams amazing voyage. When van der Wal, a native Dutchman raised in Cape Town, South Africa, and his teammates aboard the Dutch entry FLYER won the race, his unique and technically impressive photos from this epic journey were sought after. Sailing and adventure magazines flocked to van der Wal to gain access to his images and the rest is history; He hung up his sea boots and took to a life and career photographing the yachting world rather than competing in it.
Since that time, van der Wal, has honed his eye and technical skill behind the lens, carving out a name for himself and his revered work. While he prefers shooting in his home waters of Newport, Rhode Island, which is rich with sailing and nautical history, his work and clients have taken him again around the globe shooting exotic destinations – many of which can only be reached by boat. Expeditions are his favorite, and he has quite a few under his belt. He has been to the farthest reaches of the world, preferring the poles to the tropics, but his collection of over one million photographs proves that there are few places van der Wal cannot make look worthy of exploring.
Regattas and boat manufacturers used to be the norm for van der Wal's client list. Shooting events like Key West Race Week every January and competitors newly launched boats in back-to-back shoots established van der Wal's "look," reinventing typical images and scenes with his unique eye and technically masterful composition. He is well known amongst all who love boats and the water and is at the top of a growing field of a niche of "marine photographers." He has adapted his marine based market to include the massive shipping and maritime industry, proving that his skill and art transcends the subject's beauty. He is known to find the dolphins playing in a rusty tanker's bow wake, or the beaten hands of a ship's crew working the massive, trodden lines of a five hundred foot ship transporting oil rigs.
Mastering digital photography, video and the massive workflow that accompanies these newer art forms has kept van der Wal on his toes and he consistently proves that he has what it takes to be the best by teaching photo workshops and with frequent presentations, slide shows and Canon lectures. Van der Wal's series of finely tuned summer "Workshops on the Water" are held aboard a 55' motor yacht where he teaches a small group of shutter bugs the ins and outs of shooting in, on and around the water. His entertaining workshops and presentations demonstrate both his passion for the sea and its islands, coasts and coves as well as his affinity for shooting in the most challenging conditions. Salt spray and an unstable shooting platform are rarely a photographer's friend, but Onne has systems and gear in place to make even a wet and wild day productive; in fact some of his very best and most revered photos come from the days most other photographers would sooner stay ashore, camera gear tucked safely away.
Van der Wal runs his business out of his downtown Newport, RI studio and Gallery where his staff sells stock photography as well as a retail collection of over 340 fine art Limited Edition prints. Visit the Gallery at One Bannister's Wharf, Newport, RI. Open 7 days year round.
Subscribe to Our Newsletter